ABOUT ENGELKE HOMES
Engelke Homes specializes in historic renovations on the upper peninsula of Charleston, SC.  Engelke Homes is owned and operated by Marc Engelke who has bought, sold and renovated over 30 homes for himself and dozens more for clients over the past 20 years. Notably Marc is an active member of the Preservation Society of Charleston. Founded in 1920, the Preservation Society of Charleston is the oldest community-based historic preservation organization in the United States. One of the best-known programs of the Society is its Carolopolis Award.  Carolopolis Awards recognize excellent examples of preservation, renovation, restoration, and even new construction in Charleston. Engelke Homes is proud and honored to have had more than a dozen of his projects receive Caropolis Awards.
Engelke Homes takes on only a limited number of projects at a time and ONLY works in unoccupied homes needing full renovations.  If you are interested in hearing more about EH's services please feel free to contact us.  Note: Engelke Homes is currently booked through the summer of 2017.
ABOUT MARC ENGELKE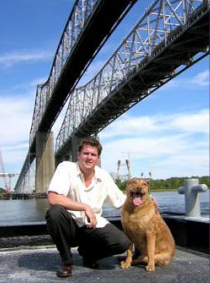 Marc Engelke, owner of Engelke Homes LLC, came to Charleston in 1992 from Atlanta, GA to attend the College of Charleston. After graduating in 1996 with a major in Biology/ Pre Med, Marc decided against pursuing  medical school, as he originally planned, and instead began investing in downtown Charleston real estate and purchased the Charleston Rickshaw Co. The Charleston Rickshaw Co is a bicycle taxi service which serviced the downtown area with a fleet of 12 pedicabs at that time. During the winter months when the tourism business was slow, Marc worked as a Divemaster locally and in the Caribbean. As Marcs real estate and renovation projects continued to grow, he sold the Charleston Rickshaw Co in 2001 and focused his efforts on "flipping houses" and real estate sales. In 2003, Marc received recognition by Coldwell Banker's Historic Traditions office for "Most units sold". With over 100 completed real estate transactions closed for clients and/ or purchased for himself , Marc has settled into a career focusing on historic restoration and real estate investment. Although currently an agent with Agent Owned Realty, you will have a hard time finding Marc not wearing his construction boots and deep into one of his ongoing projects. As a married man with 2 kids who has lived and worked downtown for almost 20 years, Marc appears to have settled into a career renovating and selling Charleston's historic homes. Almost every restoration project taken on in the past 10 years has been within a one mile radius of his personal home contributing to the sense that not only Marc but also his family and work crew have become a fixed part of the upper peninsula community.